Anti-Aging
ANTI-AGING SKINCARE TARGETING VISIBLE SIGNS OF SKIN AGING
SkinCeuticals anti-aging creams help prevent and improve the appearance of fine lines, wrinkles, loss of firmness, and discoloration. Formulated for daytime and nighttime use, this targeted skincare is formulated to address visible aging concerns, restoring a healthier and more youthful appearance.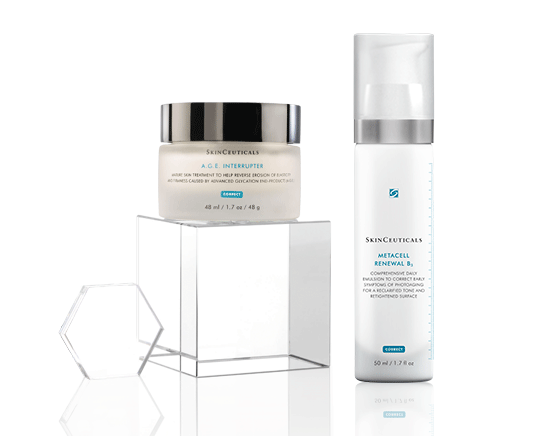 Vitamin C serum for oily and blemish-prone skin.

Best selling C E Ferulic® and Hyaluronic Acid( HA) Intensifier clinically proven to fight visible signs of aging now featured in a limited edition Injectable Prep System. Valued at $266.00

Best selling Phloretin CF® and Discoloration Defense are clinically proven to reduce the appearance of skin discolorations. Now featured together in a limited edition set with Retinol .3. Valued at $331 save 16.55%.

Best selling LHA Cleanser and Blemish + Age Defense are clinically proven to fight acne. Now featured together in a limited edition set with Phyto Corrective Gel to calm and hydrate the skin. Valued at $220 save 11%.

High-concentration anti-wrinkle cream formulated to improve the visible signs of aging caused by advanced glycation end-products (A.G.E.).

A daily multi-action lightweight lotion that reduces the appearance of stubborn skin discoloration and improves skin tone.

Nighttime glycolic acid cream delivers a true 10% glycolic acid value to promote cellular turnover for healthy, glowing skin.

A multi-functional corrective serum to help amplify skin's hyaluronic acid levels

A patented anti-aging cream to refill cellular lipids and nourish dry skin. U.S. Patent No. 10,137,073.

A two-in-one daytime antioxidant serum that provides environmental protection and exfoliation.

A daytime introductory vitamin C serum for sensitive skin that offers environmental protection and improves the appearance of aging.

An oil-free face serum that reduces the formation of adult acne, and improves visible signs of aging.