PREVENT PROTECT
CORRECT
ADVANCED SKINCARE BACKED BY SCIENCE
To maintain and improve skin health, an effective skincare regimen must contain three fundamental elements: Prevention, Protection, and Correction. Designed to prevent signs of future damage, protect healthy skin, and correct the appearance of previous damage, SkinCeuticals is committed to advanced skincare products that are backed by science.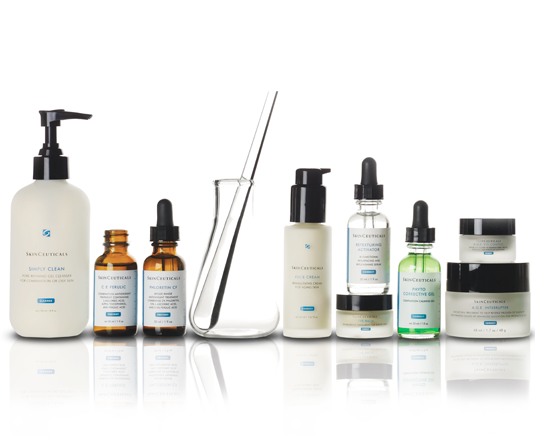 Best selling Metacell Renewal B3 and Hydrating B5 Gel are proven to improve signs of aging and hydrate the skin. Now featured together in a limited edition Microneedling Prep Pack. Valued at $195 save 9.75%.

Best selling C E Ferulic® and Hyaluronic Acid( HA) Intensifier clinically proven to fight visible signs of aging now featured in a limited edition Injectable Prep System. Valued at $266.00

Best selling LHA Cleanser and Blemish + Age Defense are clinically proven to fight acne. Now featured together in a limited edition set with Phyto Corrective Gel to calm and hydrate the skin. Valued at $220 save 11%.

A multi-functional corrective serum to help amplify skin's hyaluronic acid levels

Exfoliating toner helps refresh skin and smooth skin texture while removing excess residue.

A rich, hydrating cream helps reduce puffiness and improves visible signs of aging around the eye area.

Lightweight cream to combat the visible effects of collagen breakdown and moisture loss.

An occlusive, hydrating balm for compromised or very dry skin.

Combats environmental triggers to alleviate skin blotchiness and discomfort.

A patented daytime vitamin C serum that delivers advanced environmental protection and improves the appearance of fine lines and wrinkles, loss of firmness, and brightens skin's complexion. Now clinically proven to reduce combined oxidative damage from free radicals generated by UV, Ozone, and Diesel Exhaust by up to 41%. U.S. Patent No. 7,179,841 .

A weightless 100% physical sunscreen that provides broad spectrum protection with a transparent finish.

A daily multi-action lightweight lotion that reduces the appearance of stubborn skin discoloration and improves skin tone.